Your ideal partner for studying, building and maintaining your lift
Our company, aiming to serve people with disabilities represents the PROSPELASI special lift company and offers you products from European factories with a long history of stair lifts, such as Handicare, founded in 1886 and with the largest number of international sales. With the basic safety and reliability criteria, we have a wide range of products capable of being the definitive solution both in terms of functionality and aesthetics.
By studying each problem individually and according to its peculiarities, we have the ability to offer the best technical solution and support. Stair lifter systems are divided into two types in a seat and a wheelchair and are constructed for straight stairs and ladders, indoors or outdoors.
---
Stair Lifts for wheelchairs
Lifting platforms for a wheelchair were designed to allow wheelchair users to be able to independently, safely and comfortably access and use any building where the installation or use of an elevator is not feasible. Lifting platforms can be installed indoors and outdoors and secured to the wall as well as to the ground, while being the ideal solution for both private and public spaces. The use of a stair lift is essential to ensure accessibility for disabled people.


Stair Lifts for wheelchairs for Straight Staircases
Ensures full user autonomy thanks to its auto-folding system. It does not stop even in the event of a power failure due to its rechargeable batteries. It moves on a double aluminum guide, perfectly smooth and silent. Designed specifically to occupy the smallest possible space on the staircase, it is the most reliable solution for stairs both indoors and outdoors.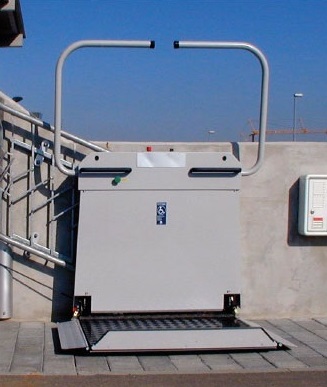 Stair Lifts for wheelchairs for Curved Staircases
The SL-curved platform lift is intended for stairs that follow a curved course either at 90 or 180 degrees or with intermediate platforms. It is differentiated by other similar lifts in that it does not carry the drive on the platform, which allows it to occupy the smallest volume on the staircase. Its perfectly smooth and silent operation coupled with its top reliability make it the world's most popular choice. It is suitable for indoor and outdoor use.
Stair Lifts for wheelchairs / Lifting Platform - Advantages
Fully controlled operation with rechargeable battery or three-phase voltage
Design for maximum safety and comfort
High strength construction
Adjustable side ramp
Settings for alert in case of emergency
Aesthetics that adapt to your space
Minimum installation space required
Easy & quick installation
Minimum maintenance requirements
Certification with CE and Type Examination Certificate
2 year warranty
Stair Lifts with seats
The seat lift system for staircases is specifically designed for people of all ages with mobility problems. Seat lifting systems (lifting chairs) can be installed on each staircase, both indoors and outdoors, as they are built exclusively for the space they are intended for. They are placed in houses with straight stairways or where a curved installation is necessary. Seat lift systems are available in different types and meet the needs of each user and the specificity of each residence.


Straight Staircases
Straight Staircase Handicare Lifts feature 3 different types of seats in their range. All types were designed and built to meet the modern requirements of a stair lift such as space-saving design, safety, ease of use, silent operation, high-quality finish.
Curved Staircases
The Curved 2000 stair lift has 3 different types of seats in its range. All types were designed and built to meet the modern requirements of a stair lift, such as space-saving design, safety, ease of use, silent operation, high-quality finish. The curved 2000 stair lift uses a two-rail system. Driving systems of this type are the most common in both Greece and the rest of Europe. Its absolute application to your stairway and its considerably smaller volume than any other type of driving system ensures the unobstructed use of the stairs as well as the perfect aesthetic result. Given its reliability as well as the high safety standards it maintains, it is an excellent choice, however difficult they are, indoors or even outdoors. Its exceptional potential is due to the existence of a serrated route, one on each rail and two gears. This ensures a balanced distribution of movement, resulting in smooth operation even in steep staicases as well as in the definitive handling of a serrated system, which is common in gear drivers. Its primary advantage is also to achieve a much smaller turning radius than any other stair lift with a two-rail system.
Stair Lifts with seats - Advantages
Fully controlled operation with rechargeable battery or three-phase voltage
Design for maximum safety and comfort
Aesthetics that adapt to your space
Minimum installation space required
Easy & quick installation
Minimum maintenance requirements
Folding seat for space saving
Rotating, anatomical seat
Opportunity for many stops
Handling via the armrest or remote control
Parking beside the stairway
Route to more than one storey
Certification with CE and Type Examination Certificate
2 year warranty